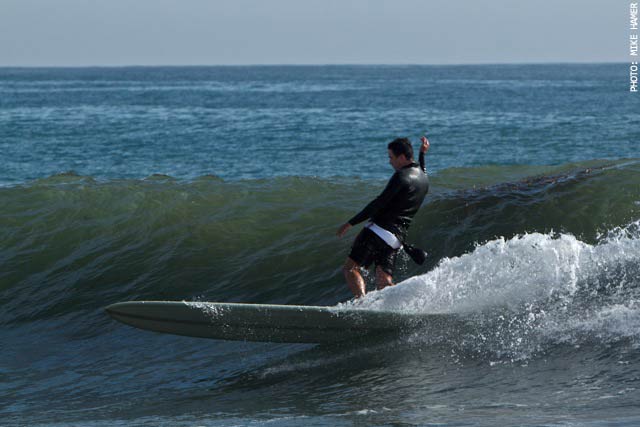 Site author Steve Lange, January 2014. Photo by Mike Hamer.
About this site
This site started back in 1999 via my old 56.6k modem and AT&T Worldnet ISP hosting account. It was one of just a small handful of local websites dedicated to surfing in the Santa Barbara area.
I started the site at the encouragement of a friend — Darrin "Neon" McClure from San Clemente — that I met via the alt.surfing newsgroup on Usenet (one of the main online discussion venues before the advent of website forums). It was meant to showcase the longboard surfing of the group of people I was surfing with at the time.
In subsequent years the site went through various phases of development and comparable dormancy. To my surprise, it remains a modestly popular website and, I hope, a useful resource for the Santa Barbara -area surfer looking for a more advertising-free means of checking the surf forecast.
For my part, I am back to surfing now after a good many years away doing other things. I am still riding Tyler Hatzikian's surfboards and still loving the great breaks in and around the Santa Barbara area. We live in a very special place and are fortunate to have wonderful waves to ride admist compelling natural beauty.
Steve Lange
2013